Shop for Your Style of Wedding:
Need to hold down wedding costs? Many people have a dream wedding that they can't afford. Having a vision and sticking to it means you are stuck in that box. It makes the number of people the only variable to negotiate.
Why not think outside the box? One of the best ways is to shop weddings. You need to look at weddings at different price points. Read about the costs. This can open up new wedding options and get the creative juices flowing. Remember all price ranges have advantages to them, so be open.
Let's take a look. Chick on each photo to go to a different wedding.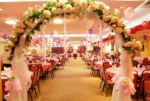 Wedding with a sitdown dinner at a country club. Both brides in white.
---

They had a big church wedding. They went all out in a big gay splash.
---

Let's head to the back yard with good food and lots of love, food and fun.
---

The park had a beautiful view. A party that had a wedding at it.
---

A simple country chapel. Sure it was traditional but with a twist...
---

It was a big one! The big fat wedding they wanted.
---

A quick wedding and a long honeymoon. Simple can be just right.
---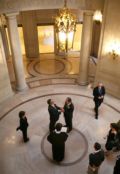 We got married at City Hall. Why not. The law may change at any moment.
---
© Copyright 2015 All Rights Reserved, Gayweddingvalues.com