About us
Yes, we are married. It makes me smile just to say it.
James and I have been together for over 10 years. In that time we signed up for domestic partner, got married at San Francisco City Hall, got annulled and got married again making us one of the 18,000 same-sex couples in California still married. This has all meant lots of wedding planning.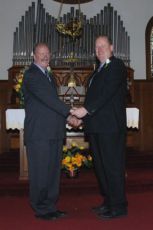 I was in a better spot than most because I worked on many large patties and other big events. I had also work at a church for many years and seen the dreaded Bridezilla and the whole Bridezilla family. So I knew that I did not want that to happen to us.
We both spent time looking on line and found so little that was really helpful to us.
Somethings were really hard to find. The vows and what to use as readings were bid of stubbing block and the Internet was no help. I also was feeling a bit left out by all the bride focus on most sites.
I wanted a site that would help me in all the ways I was not helped. The best way to get that was to build it myself. I hope this fills all your needs in planning your same-sex wedding.
Sincerely,
Paul and the James paulcoartist at hotmail dot com 
PS: In order to achieve what we wanted, I built my site using Solo Build It!. If you're like me, you do your due diligence and check out everything before you try it. Well, doing that, you will likely run into SBI Scam reviews in the search engines. Follow the link I provided and you will discover what those reviews are really about. 
© Copyright 2015 All Rights Reserved, Gayweddingvalues.com