Wedding Attire for Same-sex Couples
The cost percentage of all wedding attire and varies greatly depending on if it's a male or female couple. If two women are getting married the cost of dresses will most likely go up.
But if the couple are both men they may choose to wear clothes they already own. Even if they shop for formal wear they will not spend as much as women would.
What do men wear?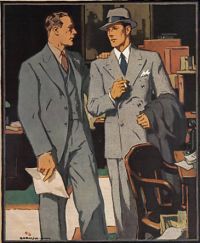 After weddings we all get quizzed on what the bride wore but never the groom. There are a variety of options for men but just as with women, they should reflect the overall feel of the wedding service. A very casual service should have a more casual look to it than something highly traditional and formal. Below I've listed attire options from most casual to most formal.
The Dude on Vacation Look.
This is the most casual look. It includes Hawaiian shirts and blue jeans or maybe a cowboy look. The key to making this work is a very laid back wedding and to have a the couple of dressed similarly. A Hawaiian shrit next to a formal wedding dress makes a couple look like they never talk to each other. Show me a Casual Attire gallery.
Office Casual
Office casual is less than a suit but a bit more than a tee shirt and shorts. Dress slacks and a shist with a collar comes to mind. In some areas weddings at town halls have a dress code. An office casual is about as lite as you can go. To for couples who have been together for decades and are simply trying to get the legal status of married, the office casual look says you are respectful and low key. Show me an Office Casual gallery.
Business Attire
A suit and tie look is particularly appropriate for mornings and afternoons weddings when formal attire might seem a bit over the top. If it is a favorite at small to midsize weddings. Two groom's often go out of their way to get matching dress shirts in pink or lavender with identical neckties. Show me a Business Attire gallery.
A Black Tie Event
This type of clothing may be worn at both daytime and evening events. Men wear black ties, cervats or fine silk long ties. The jackets do not have tails, may be buttoned if wished, and can be in black or white. Most men's dress shoes are appropriate. The look can be finished off with a rose or carnation button hole. Color may be used in cumberbuns, shrit studs and cufflinks. Read more about buying a Tuxedo and see a photo gallery of gay black tie weddings.
White Tie Events
The white tie events are a bit stricter. The white tie, top hat and tails look was popular at the beginning of the twentieth century. In the united states the look was often stark and evokes images of vintage Hollywood. In Europe the simple black and white lines served as a background for metals and hereditary honors worn by the nobility at formal events. The cufflinks and button studs are silver or white. Besides having a white tie, the look included a black jacket with tails that is never buttoned, a white handkerchief or a buttonhole of a white gardenia. A slipper like shoe with no laces made of patent leather was a must. Today the look is rare and perhaps best left to symphony conductors. Show me a White Tie gallery.
Attire for Lesbian Weddings
The cost of a wedding dress is quite significant a specially for lesbian couples wanting too similar gowns. Let us start by looking at a few different attire options . For some couples only one gown is needed as the other woman will wear some kind of a suit. This does look good.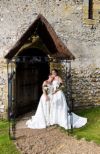 Let us talk about different wedding gowns options by price point.
The least costly :
Options: look at what you already have at home. Can you borrow a dress from someone you know. Mom's dress is a dream come true for some mothers. Thrift shops are a good place to look. Large department stores have many dresses that will work right off the rack but are not labeled as wedding dresses. And for a few people sewing it yourself is an option.
Advantages: save money . Use your creativity. And save your sanity
Drawbacks: you may need to compromise. Often dry cleaning to an alteration are needed . Can take a lot of time finding will will work for you. Looking with some economy on your mind:
Options: wedding attire online are big business and can save you money. Shopping a wedding shop sales can be hectic but worth it.. Vintage dress shops the have the wonderful dress that you didn't inherit that can look lovely on you. In the race for a wedding dress some people forget to look at bridesmaid stresses they can be ordered in white and often costs less.
Advantages: Can get the look you want. Save time looking . Helpful ideas from shop staff.
Drawbacks: everyone is looking for a deal so that competition can be fierce.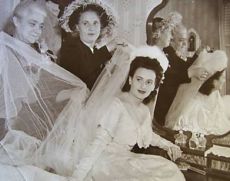 Looking with wedding dress as the most important element:
Options: have fun galore looking for the right gown. Consider having a wedding dress custom made. Some people live for fashion and would not consider anything but a high end dress.
Advantages: get the dress you really want . For some it is a fantasy come true. Makes a statement.
Drawbacks: there is just one of, money . Read more about shopping for used wedding dresses
What about the cost of a new wedding dress?
Would like like to view photos of vintage brides or vintage flower girls? This is a graet way to get some style ideas.
© Copyright 2015 All Rights Reserved, Gayweddingvalues.com