The Gay Cake at Your Gay Wedding.
What is it you want, food or photo prop?
A wedding cake has a different role from all other cakes. It is often the centerpiece and the major decoration at the reception. Some people treasurer their cake toppers for years.
It is also place where ethnic or other group pride may be displayed. Some couples opt for an ethnic desert. Many gay couples work hard to have a gay cake that makes a marriage equality statement.
Take the pressure off the cake:
A traditional cake does look beautiful. The thousands of photos taken of them every year is proof beyond a doubt that it's photogenic. But all this doesn't mean you have to have one. For small weddings it would be a colossal waste of a gay cake. If your main reason for having a wedding cake is for the photo off opportunities, then let's think about some of the alternatives. Sheet cakes, and other deserts photograph better than you think. Looking over flower arrangements are potted plants gives the same cozy intimate feeling of standing to cut the cake. Sitting together with a big bouquet between the two of you can look traditional and charming. The main point is having a number of photo opportunities takes the pressure off having a big cake.
Closing rituals:
Many people like a cake cutting ceremony because it helps to let guests know that the party is winding down. With two men there's not going to be a garter toss or bouquet toss so you may feel a cake cutting is a helpful. Think about a thank you speech. Passing out birdseed or flower petals can more than fill the void but even that is not needed.
Show of class:
A wedding cake and how it's used is also an indicator of class. With photographer in tow, couples are brought to the wedding cake. And what happens next tells you more about the couple's socioeconomic background in anything else at the wedding. At the low end, couples from the trailer park smear each others face with cake and icing. Couples who were born with a silver spoon in their mouth, will stand together smiling holding that knife in their hands pointing gently towards the cake. They know the job of cutting the gay cake belongs to the caterer. Where you fall in between these two extremes tells all.
Food
A wedding cake is the type of food. Unlike other deserts you may find the most guests won't eat it. The usual complaints are its too dry, too sweet and too many calories. Most bakeries are good at working with you and estimating the quantity but don't try and increase it thinking people have a large appetite. Most of the time you end up with extra cake. White cake with white frosting is traditional but many people just do not like the combination. Think about having multiple cakes and different flavors. May same-sex couples use rainbows to have gay cake look. Why not a rainbow of cakes? It will be a crowd pleaser.
Cost
The traditional wedding cakes are expensive. The best way to cut down on costs is to go with a sheet cake. They look lovely and are much more common at weddings than you think. Other people like a desert buffet with three or more small cakes and other goodies. This is always big with guests. Cake racks are not expensive and are another way to have gay cake look different.
Home Made Cake
Home baked cakes are wonderful. You or someone you know may want to bake a gay wedding cake. More people can do this than you think. If you love to be creative in the kitchen then read more.
Gay Topper
Commitment ceremonies have been around long enough now that same-sex toppers are easy to find. There's a wide selection on the Internet. Some can be customized to look like you. Toppers are also easy to make. Many of the supplies are available at cake supply stores and crafts stores. Do it for the pleasure of it. Cake toppers can be quite inexpensive and it will not save you money. At the high end, blown glass cake toppers are particularly lovely and make a beautiful keepsake. If you have time many people look for a romantic Christmas tree ordainment. Lucite stars and small plaques with words of love on it looked great on both the cake and a tree. These can later be used on your tree to remind you of your wedding day.
It seems that everyone wants a same-sex couple gay cake topper. But you're not required to have this . You may wish to birds, bells, or two rings on top of your wedding cake. If you're doing a sheet cake there's nothing wrong with the rainbow and it certainly identifies your wedding is different. One wedding I tended to have a sheet cake with a large = to make a political statement about marriage equality. Two bears can be particularly appropriate for some couples. Pairs of swans also work quite well. Still the same-sex couple on top drives home the point.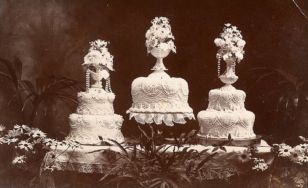 © Copyright 2015 All Rights Reserved, Gayweddingvalues.com