Wedding Readings from the  Bible, gay friendly and suitable for church.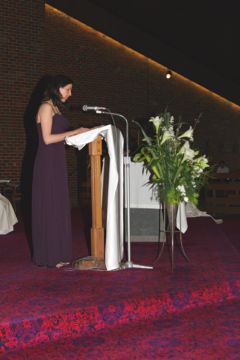 1 John
He that loveth not knoweth not God; for God is love. In this was manifested the love of God toward us, because that God sent his only begotten Son into the world, that we might live through him.
Herein is love, not that we loved God, but that he loved us, and sent his Son to be the propitiation for our sins. Beloved, if God so loved us, we ought also to love one another. No man hath seen God at any time. If we love one another, God dwelleth in us, and his love is perfected in us. Hereby know we that we dwell in him, and he in us, because he hath given us of his Spirit. And we have seen and do testify that the Father sent the Son to be the Saviour of the world. Whosoever shall confess that Jesus is the Son of God, God dwelleth in him, and he in God. And we have known and believed the love that God hath to us. God is love; and he that dwelleth in love dwelleth in God, and God in him. Herein is our love made perfect, that we may have boldness in the day of judgment: because as he is, so are we in this world. There is no fear in love; but perfect love casteth out fear: because fear hath torment. He that feareth is not made perfect in love. We love him, because he first loved us. If a man say, I love God, and hateth his brother, he is a liar: for he that loveth not his brother whom he hath seen, how can he love God whom he hath not seen? And this commandment have we from him, That he who loveth God love his brother also.
COLOSSIANS 3:12-14
Put on then, as God's chosen ones, holy and beloved, compassion, kindness, lowliness, meekness, and patience, forbearing one another and, if one has a complaint against another, forgiving each other; as the Lord has forgiven you, so you also must forgive. And above all these put on love, which binds everything together in perfect harmony.
ECCLESIASTES 4:9-12
Two are better than one, because they have a good return for their toil. For if they fall, one will lift up his fellow;  but woe to him who is alone when he falls and has not another to lift him up. Again, if two lie together, they are warm; but how can one be warm alone? And though a man might prevail against one who is alone, two will withstand him.
Matthew and Luke
Matthew Mat 8:5 And when Jesus was entered into Capernaum, there came unto him a centurion, beseeching him, Mat 8:6 And saying, Lord, my servant lieth at home sick of the palsy, grievously tormented. Mat 8:7 And Jesus saith unto him, I will come and heal him. Mat 8:8 The centurion answered and said, Lord, I am not worthy that thou shouldest come under my roof: but speak the word only, and my servant shall be healed. Mat 8:9 For I am a man under authority, having soldiers under me: and I say to this man, Go, and he goeth; and to another, Come, and he cometh; and to my servant, Do this, and he doeth it. Mat 8:10 When Jesus heard it, he marvelled, and said to them that followed, Verily I say unto you, I have not found so great faith, no, not in Israel. Mat 8:11 And I say unto you, That many shall come from the east and west, and shall sit down with Abraham, and Isaac, and Jacob, in the kingdom of heaven. Mat 8:12 But the children of the kingdom shall be cast out into outer darkness: there shall be weeping and gnashing of teeth. Mat 8:13 And Jesus said unto the centurion, Go thy way; and as thou hast believed, so be it done unto thee. And his servant was healed in the selfsame hour.
Luke Luke 7:1 Now when he had ended all his sayings in the audience of the people, he entered into Capernaum. Luke 7:2 And a certain centurion's servant, who was dear unto him, was sick, and ready to die. Luke 7:3 And when he heard of Jesus, he sent unto him the elders of the Jews, beseeching him that he would come and heal his servant. Luke 7:4 And when they came to Jesus, they besought him instantly, saying, That he was worthy for whom he should do this: Luke 7:5 For he loveth our nation, and he hath built us a synagogue. Luke 7:6 Then Jesus went with them. And when he was now not far from the house, the centurion sent friends to him, saying unto him, Lord, trouble not thyself: for I am not worthy that thou shouldest enter under my roof: Luke 7:7 Wherefore neither thought I myself worthy to come unto thee: but say in a word, and my servant shall be healed. Luke 7:8 For I also am a man set under authority, having under me soldiers, and I say unto one, Go, and he goeth; and to another, Come, and he cometh; and to my servant, Do this, and he doeth it. Luke 7:9 When Jesus heard these things, he marvelled at him, and turned him about, and said unto the people that followed him, I say unto you, I have not found so great faith, no, not in Israel. Luke 7:10 And they that were sent, returning to the house, found the servant whole that had been sick.
Ruth

And Ruth said, Intreat me not to leave thee, or to return from following after thee: for whither thou goest, I will go; and where thou lodgest, I will lodge: thy people shall be my people, and thy God my God: 1:17 Where thou diest, will I die, and there will I be buried: the LORD do so to me, and more also, if ought but death part thee and me.
BEATITUDES
"Blessed are the poor in spirit, for theirs is the kingdom of heaven.
Blessed are they who mourn, for they shall be comforted.
Blessed are the meek, for they shall inherit the earth.
Blessed are they who hunger and thirst for righteousness, for they shall be satisfied.
Blessed are the merciful, for they shall obtain mercy.
Blessed are the pure of heart, for they shall see God.
Blessed are the peacemakers, for they shall be called children of God.
Blessed are they who are persecuted for the sake of righteousness, for theirs is the kingdom of heaven."
1 CORINTHIANS 13:4-8
Love is patient and kind; love is not jealous or boastful; it is not arrogant or rude.
Love does not insist on its own way; it is not irritable or resentful; it does not rejoice at wrong, but rejoices in the right.
Love bears all things, believes all things, hopes all things, endures all things.
Love never ends.
Song of Songs Chapter 4:1-16
Behold, thou art fair, my love; behold, thou art fair; thou hast doves' eyes within thy locks: thy hair is as a flock of goats, that appear from mount Gilead. Thy teeth are like a flock of sheep that are even shorn, which came up from the washing; whereof every one bear twins, and none is barren among them. Thy lips are like a thread of scarlet, and thy speech is comely: thy temples are like a piece of a pomegranate within thy locks. Thy neck is like the tower of David builded for an armoury, whereon there hang a thousand bucklers, all shields of mighty men. Thy two breasts are like two young roes that are twins, which feed among the lilies. Until the day break, and the shadows flee away, I will get me to the mountain of myrrh, and to the hill of frankincense. Thou art all fair, my love; there is no spot in thee. Come with me from Lebanon, my spouse, with me from Lebanon: look from the top of Amana, from the top of Shenir and Hermon, from the lions' dens, from the mountains of the leopards. Thou hast ravished my heart, my sister, my spouse; thou hast ravished my heart with one of thine eyes, with one chain of thy neck. How fair is thy love, my sister, my spouse! how much better is thy love than wine! and the smell of thine ointments than all spices! Thy lips, O my spouse, drop as the honeycomb: honey and milk are under thy tongue; and the smell of thy garments is like the smell of Lebanon. A garden inclosed is my sister, my spouse; a spring shut up, a fountain sealed. Thy plants are an orchard of pomegranates, with pleasant fruits; camphire, with spikenard, Spikenard and saffron; calamus and cinnamon, with all trees of frankincense; myrrh and aloes, with all the chief spices: A fountain of gardens, a well of living waters, and streams from Lebanon. Awake, O north wind; and come, thou south; blow upon my garden, that the spices thereof may flow out. Let my beloved come into his garden, and eat his pleasant fruits.
© Copyright 2015 All Rights Reserved, Gayweddingvalues.com