Wedding Readings for Lesbian Couples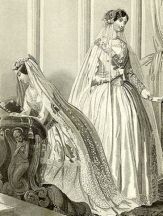 IF THOU MUST LOVE ME
IF THOU MUST LOVE ME ~ Elizabeth Barrett Browning ~
If thou must love me, let it be for naught
Except for love's sake only. Do not say,
'I love her for her smile - her look - her way
Of speaking gently,- for a trick of thought
That falls in well with mine, and certes brought
A sense of pleasant ease on such a day' -
For these things in themselves, Beloved, may
Be changed, or change for thee - and love, so wrought,
May be unwrought so. Neither love me for
Thine own dear pity's wiping my cheeks dry:
A creature might forget to weep, who bore
Thy comfort long, and lose thy love thereby!
But love me for love's sake, that evermore
Thou mayst love on, through love's eternity.
Sappho
Some there are who say that the fairest thing seen... ,
by Sapho


Some there are who say that the fairest thing seen
on the black earth is an array of horsemen;
some, men marching; some would say ships; but I say
she whom one loves best


is the loveliest. Light were the work to make this
plain to all, since she, who surpassed in beauty
all mortality, Helen, once forsaking
her lordly husband,


fled away to Troy-land across the water.
Not the thought of child nor beloved parents
was remembered, after the Queen of Cyprus
won her at first sight.


Since young brides have hearts that can be persuaded
easily, light things, palpitant to passion
as am I, remembering Anaktoria
who has gone from me


and whose lovely walk and the shining pallor
of her face I would rather see before my
eyes than Lydia's chariots in all their glory
armored for battle.


Translated by Richmond Lattimore
Song of Songs
Chapter 4:1-16 Behold, thou art fair, my love; behold, thou art fair; thou hast doves' eyes within thy locks: thy hair is as a flock of goats, that appear from mount Gilead. Thy teeth are like a flock of sheep that are even shorn, which came up from the washing; whereof every one bear twins, and none is barren among them. Thy lips are like a thread of scarlet, and thy speech is comely: thy temples are like a piece of a pomegranate within thy locks. Thy neck is like the tower of David builded for an armoury, whereon there hang a thousand bucklers, all shields of mighty men.
Thy two breasts are like two young roes that are twins, which feed among the lilies. Until the day break, and the shadows flee away, I will get me to the mountain of myrrh, and to the hill of frankincense. Thou art all fair, my love; there is no spot in thee. Come with me from Lebanon, my spouse, with me from Lebanon: look from the top of Amana, from the top of Shenir and Hermon, from the lions' dens, from the mountains of the leopards. Thou hast ravished my heart, my sister, my spouse; thou hast ravished my heart with one of thine eyes, with one chain of thy neck.
How fair is thy love, my sister, my spouse! how much better is thy love than wine! and the smell of thine ointments than all spices! Thy lips, O my spouse, drop as the honeycomb: honey and milk are under thy tongue; and the smell of thy garments is like the smell of Lebanon. A garden inclosed is my sister, my spouse; a spring shut up, a fountain sealed. Thy plants are an orchard of pomegranates, with pleasant fruits; camphire, with spikenard, Spikenard and saffron; calamus and cinnamon, with all trees of frankincense; myrrh and aloes, with all the chief spices: A fountain of gardens, a well of living waters, and streams from Lebanon. Awake, O north wind; and come, thou south; blow upon my garden, that the spices thereof may flow out. Let my beloved come into his garden, and eat his pleasant fruits.
Sun and Sand
Sun and Sand
by Arthur Rimbaud


The Sun, the hearth of Tenderness and life,
Spills burning love over the enraptured earth,
And, when one is reclined in the valley, one senses
That the earth is nubile and pulsing with blood;
That its immense breast, stirred up by a spirit,
Is made of love like God, of flesh like woman,
And that it contains, great with both pith and rays,
The grand teeming of all the embryos!
And all grows, and all ascends!
A longer version is in Queer Spirtits by will Roscoe
Ruth
Ruth Chapter 1 16-17
And Ruth said, Intreat me not to leave thee, or to return from following after thee: for whither thou goest, I will go; and where thou lodgest, I will lodge: thy people shall be my people, and thy God my God: 1:17 Where thou diest, will I die, and there will I be buried: the LORD do so to me, and more also, if ought but death part thee and me.
She Walks in Beauty
SHE WALKS IN BEAUTY ~ Lord Byron ~


She walks in beauty, like the night
Of cloudless climes and starry skies;
And all that's best of dark and bright
Meet in her aspect and her eyes:
Thus mellow'd to that tender light
Which heaven to gaudy day denies.


One shade the more, one ray the less,
Had half impair'd the nameless grace
Which waves in every raven tress,
Or softly lightens o'er her face;
Where thoughts serenely sweet express
How pure, how dear their dwelling-place.


And on that cheek, and o'er that brow,
So soft, so calm, yet eloquent,
The smiles that win, the tints that glow,
But tell of days in goodness spent,
A mind at peace with all below,
A heart whose love is innocent!
More Song of Songs
Song of Songs Chapter 8:5-7
Who is this that cometh up from the wilderness, leaning upon her beloved? I raised thee up under the apple tree: there thy mother brought thee forth: there she brought thee forth that bare thee. Set me as a seal upon thine heart, as a seal upon thine arm: for love is strong as death; jealousy is cruel as the grave: the coals thereof are coals of fire, which hath a most vehement flame.
Many waters cannot quench love, neither can the floods drown it: if a man would give all the substance of his house for love, it would utterly be contemned.
To Althea From Prison
To Althea From Prison
By Richard Lovelace 1618 - 1657


I
WHEN Love with unconfined wings
    Hovers within my Gates ;
And my divine Althea brings
    To whisper at the Grates ;
When I lye tangled in her haire
    And fettered to her eye ;
The Gods that wanton in the Aire,
    Know no such Liberty.


II
When flowing Cups run swiftly round
    With no allaying Thames,
Our carelesse heads with Roses bound,
    Our hearts with Loyall Flames ;
When thirsty griefe in Wine we steepe,
    When Healths and draughts go free,
Fishes that tipple in the Deepe,
    Know no such Libertie.


III
When (like committed linnets) I
    With shriller throat shall sing
The sweetnes, Mercy, Majesty,
    And glories of my KING ;
When I shall voyce aloud, how Good
    He is, how Great should be ;
Enlarged Winds that curle the Flood,
    Know no such Liberty.


IV
Stone Walls do not a Prison make,
    Nor Iron bars a Cage ;
Mindes innocent and quiet take
    That for an Hermitage ;
If I have freedome in my Love,


  And in my soule am free ;
Angels alone that sore above,
    Injoy such Liberty.
---
© Copyright 2015 All Rights Reserved, Gayweddingvalues.com