Welcome to Gay Wedding Values.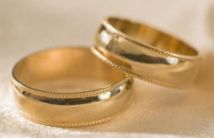 How are the weddings of same-sex and opposite-sex couples different? The answer is the lack of information for gays and lesbians. I know because I got little help on line. We looked for gay friendly readings, religious vs secular ceremonies, tips on invitation wording, and ways to keep the cost down. It seemed like so much could be said but no one was. We did not need help planning a party. We needed help taking a valid ownership of marriage as a gay expression.
Everyone knows that a wedding is the bride's big day. So it's not surprising that the presence of two brides or no bride is going to make an enormous difference on any service . Goods and services are primarily marketed to young women and their mothers. What about two grooms? Two men planning for the big day feel a bit left out . Lots of the symbols are based on straight couples having children, can we use those? The good news is this world is still new so we can make up the rules as we go .
Legal question that hangs on the minds of all gay couples. For straight couples the idea of marriage and legal rights come together in a thoughtless way. But these can be the very crucial issues to us. Is it going to be a marriage or a commitment ceremony. What does your state allow? Each time the law changes our comunity scramble to take advantage of it. This means that many of us have had multiple services through the years. And you still need to explain to people exactly what you mean when you say you're married.
Because laws can change suddenly, as we saw in California, same-sex couples are always under pressure to act quickly. You need to get to the altar before the voters can vote on it. Many rainbow weddings are fast. These are not issues that straight couples face. I loved one website that suggested their bride needed two years to plan for a wedding. I wish I had that luxury.
As a long term couple who'd been together for over ten years it was odd to send out wedding invitations . The felt the real need to explain what we were doing. There was no help with invitation wording if you are gay, let alone for a gay couple who have lived together for over 10 years.
For everyone costs are a big issue. So much of what you see is aimed at making a little girl's fairy princess fantasy come true. Many websites seem to fall in to this whirlpool. It looked as if the biggest gay issue was how to find a queer cake topper. We needed a website for us! How do I keep costs down and get the best value?
But one of the most galling things with the assumption that a wedding was going to be an all happy day. People simply are not universally glad to hear you're going to get married. You may get turned away from churches, caterers and even photographers. Relatives stop talking to you. Seems like every gay couple has to go through some small piece of unpleasantness. Not that life is all rosy beforehand but it sure is one of the things that make gay and straight life different.
What will the service look like? People are generally unsure. Everyone wants two things. They want the traditional elements that make people feel like they're at a wedding. At the same time we're looking for ways to express our unique circumstances. What are other couples doing? What doesn't work? This kind of information was hard to find.
So I set out to help people in the way I wanted to be helped.
What is new in gay and lesbian weddings. Need to find a good reading, help with attire, or wording for the ceremony? We help with all this and keep you on budget.
Top ten tips for cutting costs of your wedding. Start off or the right foot by planning the wedding you want at a cost that fits your budget.
Wedding readings for same sex couples looking for list of gay friendly readings bycategory: Religious, Religious non-scripture, Gay Men, Lesbian Couples and more.
See different styles of wedding and how it changes the cost. Lets you day dream about your gay wedding in eight radical ways. Find the one that fits.
Wedding ceremony samples for gay and lesbian who want to read full text of same-sex friendly marriage rites. Pick a text that works for you or build your own, or look over readings.
What type of ceremony? Build your own gay wedding service out of this convenient list of elements. Convenient links for gay and lesbian friendly marriage ceremonies.
Looking for gay wedding vows? Basic list of gay friendly wedding vows. This list of vows that are including both religious and secular all formatted for gay weddings. See list.
Costs of weddings can get so out of control but they don't have to. We look at different styles of weddings and the costs.
Wedding location ideas that look good and help to save money. Get the best value from the site.
Wedding Rings differ for same-sex coupls, how do you get what you want at the best value?
Invitations for gay weddings differ from our straight friends, it is a new opportunity for same sex couples or You may have been together for decades, you may have had other ceremonies, and your
I just bet your not a virgin! The idea that you're a shy young couple that need time alone to explore each other is not a good start for planning a gay honeymoon.
Can gay couples share last name ? Same-sex couples will keep their last name. There are some other factors that can come into play for people taking their partner's surname. Use of Mrs ?
Two grooms will often dress alike but two brides are less likely to dress the same. How do same-sex couples work their look? Advice & photos.
Elope? Thinking about eloping for your gay wedding? For many gay couples the only way to get any legal status is to get married in a different location.
Gay Cake in all its glory. What is it you want, food or photo prop? Do you go traditional or should it look like a drag queen at Christmas?
Are you thinking about self catering your own wedding. For many gay men this is a great idea. It can save money and give you something to do on the day of the wedding
For some gay and lesbian couples cut flowers are truly a vital part of the wedding helping to make an important statement about traditional values and same-sex weddings.
A few gift ideas to say thank you to the many poeple who helped you with your wedding. Gifts for men and women that you can send out now.
A little about us and how and why this site came into being.
Useful links that I think you will like. Help with finding what you need.
Would you like to share your knowledge about Gay Wedding? Great, find out how you can submit your story or tip here.